https://elderofziyon.blogspot.com/2021/11/1101-links-pt1-ngos-fellow-traveling.html
From Ian:
Yisrael Medad: NGOs fellow-traveling with Palestinian terror- opinion

It was Tuvia Tenenbom, disguised as "Tobias," who in his book "Catch the Jew" shines an investigative light on what he termed the "peace industry" funded by foreign nations and NGOs. If that funding was reduced or properly spent, thousands of 'good souls' would lose jobs and their raison d'etre. And local Arabs would have less of an impetus potentially to siphon off funds for terror.

Instead of propping up violence, we might have had peaceful behavior, compromise and coexistence long ago. As one example, in 2019, it was made clear to the EU that their monies were spent on BDS campaigns and the demonization of Israel.

Moreover, the return, in early October, of the United States to the United Nations Human Rights Council is, in connection with this latest incident, all the more worrisome. This body, fed with lies and misrepresentations, much of it even antisemitic, by organizations such as Human Rights Watch and Amnesty International – who do not do independent research but rely on reports from, among others, these six PFLP- NGOs in order to besmirch Israel, has created a cauldron of spuming hostility. This is combined with the fact that the diplomatic corps and the foreign affairs officials in the related countries who attend international conclaves and approve the spending are youngish and have been brought up in universities, which are not necessarily friendly to Israel and Jews, and their training is to accept the Arab narrative to the "Palestinian Question."

The US State Department is being briefed about the information upon which Minister Gantz made his decision. I assume other EU states are as well. If the information proves reliable and true, will there be an apology forthcoming? And will these activist diplomats admit error? Or is Israel to be treated as a pariah, the goal of Arab propaganda all these past decades?

What is also disturbing is the blind commitment Israel and Jewish groups display. A petition by the organization Peace Now refers to "Palestinian civil society and human rights organizations" who have "long faced such spurious accusations" regarding their terror links. Delegates from 25 Israeli civil society groups showed up in Ramallah on Wednesday in order to express their solidarity with their counterparts in the Palestinian Authority.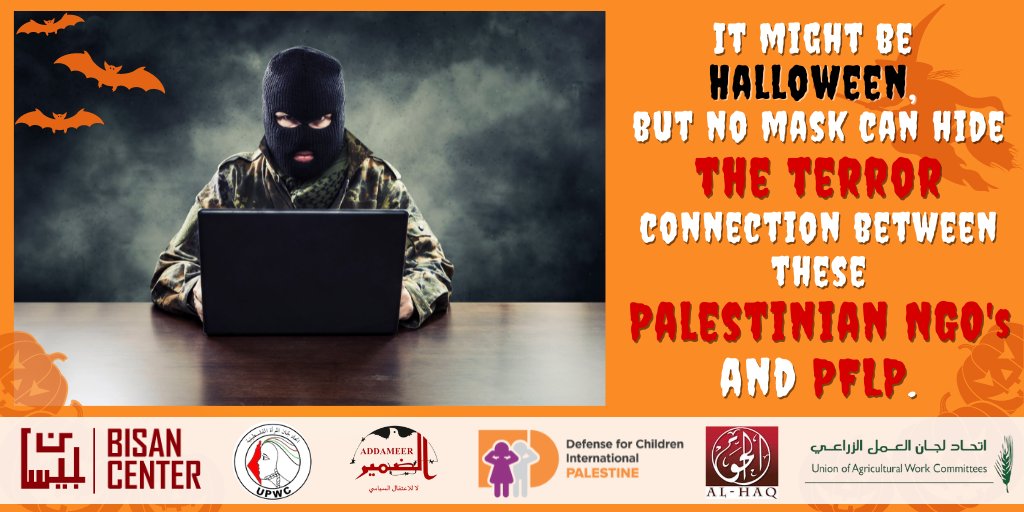 Left-wing NGO calls for US sanctions on Benny Gantz

A self-described "anti-occupation" Israeli-Palestinian non-governmental organization has called for US sanctions on Defense Minister Benny Gantz over his designation of six Palestinian human rights organizations as terrorist groups.

In a post to Facebook, Combatants for Peace said it was calling on US President Joe Biden to impose sanctions on Gantz, whom they accused of "political persecution" of the human rights groups, through the use of the Magnitsky Act.

Signed into law by then-US President Barack Obama in 2012, the Magnitsky Act grants the US government the authority to sanction individuals that violate human rights.

In addition, the organization further asked Biden to ignore Israel's terrorist designation of the human rights groups.

Combatants for Peace accused Gantz of deciding "to criminalize the six organizations without presenting any basis or proof, without a transparent procedure …."

In addition, Combatants for Peace alleged that Gantz had "a personal interest in the matter: Some of the six organizations have raised personal accusations against him in the International Criminal Court in The Hague of committing war crimes during the 2014 attack on [the] Gaza [Strip]."
In apparent 'payback,' PLO designates 2 Israeli NGOs as terrorist entities

The Palestine Liberation Organization on Sunday designated two Israeli nongovernmental groups as terrorist entities in an apparent reprisal over a similar move made by Israel.

Last week Defense Minister Benny Gantz outlawed six Palestinian groups affiliated with the Popular Front for the Liberation of Palestine, designating them as terrorist organizations.

The PFLP is considered by several countries to be a terrorist entity, including Israel, the United States and the European Union.

The move against the groups was slammed by the Palestinian Authority and international human rights organizations as "a major escalation of its decades-long crackdown on political activism in the occupied territories," and equally criticized by the US and the EU.

Sunday saw PLO-affiliated workers unions slap a similar designation on the Jerusalem-based NGO Monitor and Regavim organizations, citing their "collaboration with the Shin Bet [security agency] and the government of the occupation."

NGO Monitor is a watchdog group that analyzes and reports on the output of the international NGO community from a pro-Israel perspective. Regavim is a right-wing NGO that monitors illegal Palestinian building in Area C of Judea and Samaria and pursued legal action to stop it.

A joint statement by the Palestinian groups further urged all international institutions and NGOs to sever ties with both groups.

While it is doubtful the PLO's designation would affect NGO Monitor and Regavim's operations, but it reflects the Palestinian's anger over Gantz's move.
Palestinians want better lives, regardless of rights

Survey shows that Rep. Tlaib, Progressives don't represent Palestinian opinion

Tlaib, who campaigns on being the the voice of Palestinians in the US Congress, added that Washington "must end funding (US annual aid to Israel) for human rights abuses."

But the majority of Palestinians in the West Bank and the Gaza Strip do not think it is Israel that is violating their human rights. According to the PSR survey, 71 percent of West Bankers said that people in their area cannot criticize the Palestinian Authority (PA) without fear. In the Gaza Strip, inaccessible to Israel, 62 percent of Palestinians said that people in the strip "cannot criticize Hamas's authority without fear."

Unlike how Tlaib wants America to force Israel to give Palestinians rights, the survey showed that only 10 percent of Palestinians in the West Bank and the Gaza Strip believe "that the first most vital Palestinian goal… should be to establish a democratic political system that respects freedoms and rights of Palestinians."

Palestinians want better lives, but it is unfortunate that they have no idea that such goal is connected to peace with Israel. According to the poll, 53 percent of Palestinians oppose the two-state solution, while 60 percent of them support perpetuating the conflict with Israel, 44 percent of which endorse "armed struggle." Only 36 percent of Palestinians support negotiations with Israel, and 46 percent agree to a two-state solution.

But Tlaib and co tell America and the world a different story, arguing that Palestinians seek peace, human rights and democracy, and that it is Israel, and successive US governments, that refuse peace talks and suppress Palestinian democracy and human rights.

When asked about their goals — politics aside — Palestinians are like all other humans: They seek better lives for themselves and their loved ones. However, with the lack of leadership and with their populist leaders in the Palestinian Territories and their friends in America and the world, when Israel is added to the mix, Palestinians suddenly refuse peace, support more conflict with Israel, and therefore end up supporting the exact opposite of what can get them to their goal of better lives and a better future.
Fursan al-Aqsa's gore is part of a Palestinian penchant for promoting attacks on Israelis. Palestinian textbooks distributed for grades 1-12 glorify violence , according to the monitoring group IMPACT-se. The European Parliament recently moved to condition aid to the Palestinians on removing such incitement.

Sources of invective even include senior Palestinian leaders such as Palestinian National Authority President Mahmoud Abbas, who stated in 2015, "We welcome every drop of blood spilled in Jerusalem." Abbas's Fatah party celebrated its anniversary in 2016 by having children wear suicide belts, carry mock RPGs, brandish Molotov cocktails, and bear firearms.

Such incitement to violence helped inspire the "Stabbing Intifada" in 2015, a series of lone-wolf attacks that left 42 Israelis dead . Just last month, Palestinians carried out several stabbing attacks in Israel . Echoing Nijm's sentiment, a spokesperson for the U.S.-designated terrorist group Palestinian Islamic Jihad said , "Acts of resistance are the legitimate right of the Palestinian people."

The estimated average age of attackers during the stabbing intifada was between 19 and 20 years old. A 2018 study across several Arab countries found that 55% of those in the 18-24 demographic play video games, while 45% of Arabs aged 25-34 play. Fursan al-Aqsa may inspire some of these gamers to live out their video game fantasies and murder Israelis.

But the danger will not be limited to Israel. During the latest round of Israel-Hamas fighting in May 2021, thugs in Los Angeles, New York, and elsewhere attacked Jews in retribution. If Steam or others provide a platform for this game, they will be complicit in putting a target on the backs of Israelis and Jews in Israel and abroad.
'I believe the US will respect Israel if Israel respects itself'

It has been almost a year since US Ambassador to Israel David Friedman completed his service. In an interview with JNS, Friedman – who recently joined former Treasury Secretary Steven Mnuchin's new investment fund, Liberty Strategic, as its Israel representative, and established the Friedman Center-Peace through Strength – talks about his years with the administration of former US President Donald Trump and plans for the future.

Q: How do you feel now that you are out of office?
" I miss it. We accomplished a lot, but there there are still a lot of good things that we still could have accomplished. With God's help, we'll have a chance to come back."

Q: Did President Trump ever speak to you about his disappointment in the predominantly Democratic Jewish vote?
"Yes, and he did so publicly, as well. He was the best US president that Israel ever had. Domestically, as well, he spoke out very strongly against anti-Semitism. He felt that, given how much he did for Israel and to fight anti-Semitism, more Jews should have voted for him. However, he did receive more Jewish votes in Florida than any Republican before him. So, it's a mixed picture. But he definitely was disappointed."

Q: In hindsight, is there anything you would have done differently?
"I'm pretty satisfied that we did as much as we could to strengthen the US-Israel relationship. Had we known that we were only going to be in office for four years, we might have accelerated our efforts, some of which took a long time, due to their complexity."
Saudi FM Says Palestinian State Before Israel Normalization With Israel

Saudi Arabia's Foreign Minister Prince Faisal bin Farhan Al Saud said in an interview with Saudi news channel Al-Hadath that a Palestinian state with East Jerusalem as its capital is a prerequisite for normalization with Israel.

Israel's Kan public broadcaster on Sunday reported the remarks made by Saudi Arabia's top diplomat.

Although supportive of the Abraham Accords that established diplomatic ties between Israel and four Arab countries, the kingdom has maintained that a resolution to the Palestinian issue must happen before it will join the pact.

Saudi Arabia has recently made positive moves toward the Jewish state, including allowing the use of its airspace for commercial flights from Tel Aviv to Dubai and Abu Dhabi, significantly shortening travel time between the two countries.

The United Arab Emirates and Bahrain signed the Abraham Accords with Israel at a White House ceremony in September of 2020. Morocco and Sudan were later additions.

In an interview last year with the Washington Institute for Near East Policy, Faisal said that normalization with Israel would take place eventually, "but we also need to have a Palestinian state and we need to have a Palestinian and Israeli peace plan."
Fifteen years ago, the United Nations abolished the discredited Commission on Human Rights—which was chaired by the Libyan regime of Col. Muammar Qaddafi—and created the Human Rights Council with the promise to elect members who would uphold the highest standard of human rights. https://t.co/PHq6uQVinK

— UN Watch (@UNWatch) November 1, 2021
European Union Will Not Outlaw All of Hezbollah

The European Union will not ban the Lebanese Shiite terrorist group Hezbollah in its entirety.

When asked about a full ban of Hezbollah, Katharina von Schnurbein, the European Commission Coordinator on Combating Antisemitism and Fostering Jewish Life, eschewed the question and passed it onto her superiors, according to the Jerusalem Post.

Peter Stano, EU Spokesperson for Foreign Policy, told the Post, "The military wing of Hezbollah is already on the EU terror list.

"Any changes in the nature and scope of the existing listing are for EU Member States to discuss and decide by unanimity."

The EU currently designates the "military wing" of Hezbollah under the EU sanctions regime to combat terrorism, a decision that was undertaken in 2013 in the aftermath of an attack on a tourist bus in Bulgaria. The attack killed five Israelis and their bus driver.

Hezbollah, as an organization, considers itself to be a unified movement that cannot be divided into political and military sectors. Hezbollah spokesman Ibrahim Mousawi stated in 2013, "Hezbollah is a single, large organization. We have no wings that are separate from one another."
In Glasgow Bennett Asks Australian PM to Condemn All of Hezbollah as Terror Group

Prime Minister Naftali Bennett met on Monday with Australian Prime Minister Scott Morrison on the sidelines of the UN Climate Change Conference in Glasgow, Scotland.

The two leaders discussed the Iranian nuclear threat, and Bennett asked his Australian counterpart to work toward the strong condemnation of Iran at the International Atomic Energy Agency Board of Governors meeting that is due to take place later this month.

The Prime Minister also requested that Australia officially define Hezbollah, in its entirety, as a terrorist organization, an issue that is currently on the agenda in Australia.

Prime Minister Bennett thanked Australian Prime Minister Morrison for his country's long-standing support of Israel in the international arena. The two discussed ways to enhance and upgrade bilateral relations, especially regarding climate innovation, and PM Bennett invited PM Morrison and his wife to make an official visit to Israel.

"I am delighted to meet you. We view you personally as a friend and a supporter and of course, we view Australia as a huge friend," Bennett told Morrison, adding, "I'm looking forward to strengthening our relations and as you said, there's a vibrant and a very lively Jewish community in Melbourne and Sydney."
Israel and Australia discuss free trade agreement

Economy Minister Orna Barbivai met virtually on Wednesday with her Australian counterpart Dan Tehan to examine the viability of a free trade agreement (FTA) between the countries and explore different ways and means to strengthen trade relations.

During their conversation, the two ministers agreed on kicking off preliminary talks as early as January, with a desire to create new initiatives that will serve as a lever for economic cooperation between the two countries.

The Ministry of Economy and Industry's Foreign Trade Administration, entrusted with promoting and leading the processes for establishing Israel's FTAs with countries and trade blocs the world over, estimates that such an agreement will increase Israeli exports to Australia and expand trade between the countries.

Foreign Trade Administration Director Ohad Cohen stated that "Australia is a significant market for Israeli exports. A free trade agreement — if signed — could help Israeli companies compete in the Australian market and strengthen business ties between companies and corporations in the two countries."

Israeli export of goods and business services to Australia in 2020 amounted to about $736 million while imports amounted to about $325 million with a total volume of trade estimated at over $1 billion.

Israeli exports to Australia — chiefly consisting of consumer goods, software and high-tech technologies, and medical equipment — are five times higher compared to imports from down under to the Jewish state.
As an Australian, who has now chosen to make Israel my home, it gives me just the most tremendous sense of pride seeing how close our two nations are and how much good we are doing together for the world! ???? ?? ???? https://t.co/rlwYOutRON

— Arsen Ostrovsky (@Ostrov_A) November 1, 2021
Israel and UAE Work Towards Instituting a Free-Trade Agreement

Israel and the United Arab Emirates are working on a free-trade agreement that would reduce tariffs and introduce other economic benefits, facilitating trade and enhancing cooperation between them. It's one more sign of the rapidly developing ties that have come as a result of the Abraham Accords.

The news came as something of a surprise when Israel's Ambassador to the UAE Amir Hayek announced it on Oct. 17 during a business conference in Abu Dhabi that brought together business leaders and entrepreneurs from the two Middle Eastern countries.

"Our ambassador was actually addressing the crowd and also addressing the UAE minister of trade, saying, 'We have to work on the free-trade agreement, and we have to do it fast,'" Dan Catarivas, director general of foreign trade and international relations at the Manufacturing Association of Israel, told JNS. "So he did, indeed, reveal—he did leak—that there are various talks on both sides about reaching an FTA between Israel and the UAE."

The greatest value of the FTA will be in its symbolism, said Catarivas, noting that the UAE customs tariffs are relatively low to begin with, fixed at 5 percent. "An FTA shows the countries have good relations; that everything's for the good," he said.

Despite the ambassador's remarks, an FTA won't happen right away; various steps must be taken first. Usually, there is a feasibility study, then a joint study to judge "the profitability of such an agreement for both parties," followed by more negotiations, explained Catarivas, though "it could be relatively short term. By short term, I mean in a year or two."
200 House Republicans sign letter opposing Jerusalem consulate

All but 12 House Republicans, including all members of the party's leadership, signed onto a letter to President Joe Biden opposing the administration's plan to reopen the U.S. consulate in Jerusalem that served Palestinians.

The letter, which was signed by 200 Republicans and led by Rep. Lee Zeldin (R-NY), argues that reopening the consulate, which was shuttered by the Trump administration in 2019, "would be inconsistent" with the Jerusalem Embassy Act of 1995. That bill directed the president to move the U.S. embassy in Israel to Jerusalem and recognized Jerusalem as an "undivided city" and the capital of Israel.

"Your administration would create a misguided situation in which the U.S. would essentially have two separate diplomatic missions in Israel's capital," the letter, which was expected to be sent Monday morning, reads. "The U.S. consulate general in Jerusalem that was established in 1844 was not intended to serve as an outreach to the Palestinians in Israel's capital."

"Reopening the U.S. consulate general in Jerusalem would also reward and turn a bilnd eye to the Palestinian Authority engaging in the real obstacles to peace," it adds. The letter also notes the Israeli government's opposition to the move.

The arguments in the letter echo those made by Sen. Bill Hagerty (R-TN) and more than 30 Senate Republicans in a bill introduced last week seeking to bar the U.S. from reopening the consulate.
ZOA billboards in Jerusalem opposing a "Palestinian consulate"…which relates to the US request to re-open the Jerusalem consulate that was closed by the previous admin when it moved the embassy ; more details https://t.co/e132OtVmdJ pic.twitter.com/JHAuJlmhBu

— Seth Frantzman (@sfrantzman) November 1, 2021
The Arab League: "Israel is trying to falsify Palestinian history."

— Khaled Abu Toameh (@KhaledAbuToameh) November 1, 2021
Palestinian Islamic Waqf official: Israel is trying to turn Al-Buraq (Western Wall) and its area into Jewish sites. The renovation work there must stop.

— Khaled Abu Toameh (@KhaledAbuToameh) October 31, 2021
MEMRI: Palestinian Authority Minister And PLO Executive Committee Member Majdalani: UNRWA Is The Political Symbol Of The Right Of Return

In a recent meeting with UNRWA Commissioner Philippe Lazzarini, Palestinian Minister of Social Development Ahmed Majdalani, who is also a member of the PLO Executive Committee, described the Palestinians' efforts to ensure UNRWA's continued existence, while stressing that it is not just an institution assisting the Palestinian refugees but "a political symbol of the right of return."

The following are translated excerpts from a report on the meeting and on Majdalani's statements in it, posted October 27 on the website of the Palestinian daily Al-Quds:
"Dr. Ahmed Majdalani, a member of the PLO Executive Committee and secretary-general of the Palestinian Popular Struggle Front, stressed the endeavor to ensure the [continued existence] of the [UN] Relief and Works Agency, UNRWA, not as an institution that provides services to the Palestinian refugees, but as a political symbol of the refugees' right of return. In his Wednesday meeting in his office with UNRWA Commissioner Philippe Lazzarini, Dr. Majdalani added: 'We will discuss with all the friendly countries [the topic of] meeting [their] commitments and increasing the financial contributions, and all the ways to raise the level of cooperation and coordination, so as to overcome the financial crisis the agency is experiencing.

"Underscoring that UNRWA is the main political symbol of the refugees' right of return and right of self-determination, Majdalani stated: 'We will support [UNRWA's] survival and continued activity despite the difficult condition of the Palestinian cause.' He noted the importance of convening the agency's donors, and said that the international community is responsible for helping [UNRWA], so as to enable it to deliver services to the refugees in its areas of operation. [He added] that the ongoing incitement campaign of the occupation [i.e., Israel] requires completing the [provision of] international support to UNRWA.

"Majdalani reiterated the opposition to the framework agreement between the U.S. and UNRWA,[2] which is perceived as replacing the source of authority for the agency, which was established by UNGA Resolution 302. [This agreement] sets out political terms enabling American intervention in the activity of UNRWA, which is a UN agency, and [intervention] in the aid delivered to the Palestinian refugees. 'We believe that [the agreement] contains dangerous elements that are aimed against the refugees' cause, elements that threaten this cause with the purpose of destroying and eliminating it. It also redefines the status of refugee, which the PLO regards as dangerous,' [Majdalani said]…"
UNRWA chief Philippe Lazzarini casually tweets out map that erases Israel.

Incitement to destroy Israel and kill Jews is systemic at UNRWA: https://t.co/28diXk40IN

On November 16 in Brussels, @UNLazzarini will ask the US, EU, UK, Germany, Sweden, Canada & more for $800 million. https://t.co/rpMWkeyJP9 pic.twitter.com/8MhTrQQtzk

— Hillel Neuer (@HillelNeuer) October 31, 2021
Yoni Ben-Menachem: Time for Israel to "Reoccupy the Gaza Strip"

Ashley Perry, advisor to the Middle East Forum's Israel office, interviewed Yoni Ben-Menachem, an Israeli journalist and senior researcher at the Jerusalem Center for Public Affairs, during an August 30 Middle East Forum Webinar (video) about escalating violence emanating from Gaza and what Israel can do about it.

Ben-Menachem said that the Taliban takeover of Afghanistan has "alarming" implications for Israel because Hamas and Palestinian Islamic Jihad are "encouraged by the victory." All of these terrorist organizations "share the same Islamic ideology of jihad and sumud [steadfastness]," he explained. "The lesson of Afghanistan is that they have to stay on the land and not give any inch … [and with]stand Israeli pressures, and they will win in the end." Two months ago, Hamas leader Ismail Haniyeh met in Doha with Taliban leader Abdul Ghani Baradar, who praised Hamas's war with Israel.

As U.S. troops pulled out of Afghanistan in late August, Hamas and the other militant Islamic factions in Gaza staged violent rallies and border riots in hopes of pressuring Israel to relax its blockade of Gaza. Hamas demanded that Israel allow the "immediate transfer" of $30 million per month of purported humanitarian aid from Qatar (from which it takes a hefty "commission"), allow deliveries of construction materials to resume, and otherwise return to the status quo prior to Israel's May 2021 Guardian of the Walls operation against Hamas.

Taliban leader Abdul Ghani Baradar (left) with Hamas leader Ismail Haniyeh in Doha earlier this year.

Israel has rejected such Hamas efforts to "impose new rules of game on Israel," while insisting that any new agreement provide for the return of four Israeli prisoners being held by Hamas. As Hamas has rejected Israel's terms, the situation has remained a dangerous stalemate.
Ramle Arson Attacks Solved; Gaza Resident Arrested

A resident of Khan Yunis in the Gaza Strip who had been residing in Israel illegally was arrested on Oct. 12 in connection with several arson attacks in the central city of Ramle, it was cleared for publication on Monday.

Saliman Kasab, 29, entered Israel in January 2020 on a humanitarian permit to accompany his mother, who was being treated in Judea and Samaria for a serious illness, according to a statement released by the Israel Security Agency (Shin Bet). Following the completion of his mother's treatment, Kasab remained in Israel illegally.

On Sept. 30 and Oct. 4, Kasab perpetrated arson attacks against sukkot (temporary dwellings erected for the Jewish holiday of the same name) and buses in Ramle, according to the Shin Bet.

It was also learned during the course of the investigation that Kasab had been in working with the Al-Aqsa Martyr's Brigades terrorist group to commit serious attacks in Israel, and had been due to receive weapons from the group toward that end. However, at the time of his arrest, he had only received funds from the organization, according to the Shin Bet.
Supreme Court Orders Arab Squatters Evacuated from Sheikh Jarrah Parking Lot

Israel's Supreme Court on Sunday rejected the appeal of Arab residents against the decision of the Jerusalem Magistrate's Court and District Court to evict them from a parking lot they had invaded in the Sheikh Jarrah neighborhood.

The judges imposed on the appellants' legal expenses in the amount of NIS 18,000 ($5,700).

Court Vice President Justice Neil Handel, Justice Yitzhak Amit, and Justice Noam Solberg, ruled: "We have heard the arguments of the parties and reviewed the material. Therefore, the appeal can be rejected because we did not find any reason to intervene in this determination," meaning the two rulings of the lower courts.

This is not the "big" Sheikh Jarrah neighborhood case, which is still being litigated and deals with Jewish-owned homes that were invaded by Arab squatters after the Jordanian Legion chased the Jews out of eastern Jerusalem. The current Jewish owners want their property back, but the High Court's ruling in favor of evicting the illegal squatters is being delayed because the European powers and the Biden administration say it's wrong.

Perhaps Jews should squatter on the lovely grounds around the White House?

The lot in question in Sunday's ruling dominates the entire area and is owned by the Jerusalem municipality. Arab residents recently invaded the area and turned the place into a parking lot that was also used by the same Arab illegal squatters to throw stones and Molotov cocktails at Jews in the area. The High Court ruling confirms the district court's decision and states that the place must be vacated by the Arab invaders.

The Jerusalem municipality has had ambitious plans for the entire area along Wadi Joz Street that runs from Mount Scopus, through the Sheikh Jarrah neighborhood, to the Old City. Wadi Joz has been the car workshops street of Jerusalem since the 1967 war. Along with dozens of garages, there are also shops carrying vehicle accessories, as well as shops offering building materials.
PMW: Corona breathes new life into PA demonization of Israel

The Corona pandemic is to blame for many things, but ironically, it has also breathed new life into the PA's constant demonization of Israel!

In the following animated cartoon produced and broadcast by official PA TV, Israel is demonized as a virus like the Coronavirus:
The call of Allahu Akbar (i.e., "Allah is greatest") and the ringing of church bells are heard.

Text on cartoon: "Jerusalem between two viruses"
"Produced by PA TV, 2021"

[Official PA TV, Oct. 16, 2021]

PA TV broadcast another cartoon showing an Israeli soldier and a Coronavirus particle having joined forces, about to "invade" a Palestinian home:
Text on cartoon: "The ongoing Israeli invasions
Break-in
Produced by PA TV, 2021"

[Official PA TV, Oct. 18, 2021]

In its new series of animated cartoons demonizing Israel, PA TV also repeated an old demonization theme depicting Israel as a poisonous snake. One cartoon showed Israel as a venomous snake baring its fangs while coiled around the Old City of Jerusalem. The body of the snake forms a cement security wall around the city:
In addition to Hezbollah, Venezuela a safe haven for Palestinian terrorists

Last week, Israel Hayom reported that a Venezuelan hacker group by the name Team HDP broke into the country's Directorate General of Military Counterintelligence, gaining access to information on purported Hezbollah operatives living freely in the country under the protection of President Nicolas Maduro's socialist government.

Now, new details have emerged: According to the information stolen by Team HDP, Venezuela also hosts Palestinian terrorist cells involved in money laundering, drug dealing, and terrorist activity, among other crimes. It was also revealed that Cuba's foreign intelligence agency plays a central role in the matter.

One of the Palestinian cells, according to the information from Venezuela's Directorate General of Military Counterintelligence, allegedly belongs to the Al-Aqsa Martyrs Brigades, the military wing of the Fatah faction. The cell reportedly consists of at least four men identified as "doctors," whose cover includes working for Venezuela's national social security agency in Merida state in the country's northwest. "Fawaz Snofar," "Mahmoud Khalaf," and "Muhammad Abu-Rah" are some of the names that appear on the list.

The report alleges that the Palestinian "doctor" cell is responsible for the deaths of several patients due to medical malpractice, possibly the result of their questionable medical bona fides. One of the names mentioned on the list, "Khaled Badawi," is said to be of Pakistani origin and allegedly belongs to several Palestinian terrorist groups. Under the guise of being a doctor, his name was connected to activity in Merida, "a region in which uranium, thorium and coltan mines currently operate."

An Israeli source told Israel Hayom's Arab Affairs correspondent Daniel Siryoti that one of the names on the list is indeed known to the Israeli security services after he was questioned in Israel for throwing rocks at IDF soldiers as a 16-year-old. "Consequently, he was expelled from the country and forbidden from returning until the age of 21," the source said.
Seth Frantzman: Hezbollah-Saudi crisis deepens and could impact Israel – analysis

A crisis between Hezbollah and Saudi Arabia is growing.

"We are facing a crisis created by one of the countries in the region, which is waging a brutal war against another Arab country," said Mohammed Raad, head of the Hezbollah faction in the Lebanese parliament.

The regional tensions could also affect Israel.

Raad was quoted in Iranian media in recent days. His comments refer to Saudi Arabia's "hostile" actions against Lebanon. In fact, Riyadh responded to a Lebanese official supporting the Houthi rebels in Yemen after Lebanese Information Minister George Kordahi had appeared to praise the Houthis.

The Hezbollah official said: "One of the ministers of the Lebanese government issued a statement in support of the right of the Yemeni people to protect themselves against the aggressor coalition that has invaded their country, before assuming the post of minister in this government." Saudi Arabia and Bahrain have expelled Lebanon's ambassadors in recent days. Lebanon's president is seeking to heal the rift. Hezbollah may see an opening and could increase tensions. Saudi Arabia wants to harm the "stability" of Lebanon, the official said. In fact, Lebanon is unstable and bankrupt.

Hezbollah claims to be concerned that Riyadh might be making more light of the controversy because of upcoming elections. However, the reality may be that Hezbollah is trying to stoke a controversy to get votes or create a crisis.
When Hezbollah invited Ken Roth's Human Rights Watch for a "cup of coffee." https://t.co/Uj5ST05C4e

— Hillel Neuer (@HillelNeuer) November 1, 2021
Dennis Ross: The Threat of War Is the Only Way to Achieve Peace with Iran

Like a military plan that seems to work until it encounters the enemy, the Biden administration's approach to Iran required the Iranians to go along – and they have shown they will not be a partner to the White House's plans. Instead, they have made their nuclear program far more threatening and in the process have raised questions about whether there is a diplomatic answer to it.

They have been taking steps that have no justifiable civilian purpose: the enrichment of uranium to the 60% level and the production of uranium metal – actions that have no relationship whatsoever to the peaceful use of nuclear power.

The loss of Iranian fear about what they can get away with on their nuclear ambitions is dangerous. It may produce a miscalculation on Iran's part about whether the U.S. might ever respond militarily and for sure makes a diplomatic outcome less likely. Unless the Iranians understand that the pathway they are on is dangerous for them, the probability of the use of force will go up. Certainly, the Israelis, believing the Iranian nuclear threat is existential, are more inclined to act.

China needs a stable Middle East, not one disrupted by war, and an Iran on its current nuclear pathway toward a threshold weapons status risks precisely that. In 2009, during my time in the Obama administration, I was sent to Beijing, where I made the argument that neither country wanted to see a major conflict in the Middle East, yet Iran's nuclear program, if not contained, would produce that. To avoid that, China needed to be part of the effort to isolate Iran politically and economically – and it subsequently was. Moreover, neither the Russians nor the Europeans want to see Iran acquire or develop nuclear weapons.

The Biden administration, while emphasizing its commitment to diplomacy, should say that if Iran makes a diplomatic outcome impossible, it risks its entire nuclear infrastructure. Beyond this, Biden needs to disabuse Iran of the notion that Washington will not act militarily and will stop Israel from doing so.

If Washington wants to make the use of force against the Iranian nuclear program less likely, it is essential to restore deterrence. For that, Iran's leaders must believe either the U.S. or Israel will act militarily to destroy their massive investment in the nuclear program if they stay on the current path.
Israeli diplomat gets into a fiery social media spat with Iran

Israel's newly appointed ambassador to India leveled heavy criticism against Iran over the weekend, which prompted the Islamic Republic's mission in New Delhi to snap back at him on social media.

Speaking to a press conference on Friday, Ambassador Naor Gilon described Iran as a destabilizing element and a danger to the Middle East if its extremist regime manages to lay its hands on nuclear weapons.

The Iranian mission in Delhi's Twitter account issued a fiery, solecistic statement in response, slamming Gilon as "adventurous" and his remarks on Tehran as "childish."

In the communiqué, Iran labeled Israel "a terror house" whose "illegitimate establishment has been rooted in bloodshed, assassination and massacre of Palestinians and other nations in the Middle East."

It then went on to cite Israel's regional entanglements over the years and the recent involvement of Israeli malware Pegasus in a major spying scandal, implying that the Jewish state had no moral mandate to lecture and advise "peace coalitions" and "accuse others who have defended victims of extremism and aggression in the region."
MEMRI: Fmr. Iranian Diplomat: Iran Causes Instability in Middle East; There Is No Alternative to the JCPOA

On October 14, 2021, the Iranian website Didarnews.ir posted an interview with Mohammad-Qasem Mohebbali, who has served as Iran's ambassador to Malaysia and Greece and as the director of Middle East and North African affairs in Iran's foreign ministry. Ambassador Mohebbali said that 40 years of economic sanctions have crippled Iranian economy and have left the country very far behind other countries in the region in terms of economic growth. Mohebbali then discussed the issue of Palestine, which he said has "paved the road" to many of the crises in the Middle East, such as Islamic extremism.

He said that Iran has been a key player in making the Palestine issue a central issue in the Middle East, and he explained that Iran adopted the "slogans" of the Palestine issue as part of an attempt to align with Arab countries during the Iran-Iraq War and to prevent the Iran-Iraq War from becoming a war between Iran and the Arab world. He elaborated that Iran, many of the Arab regimes, and Iranian allies like Hizbullah have all had no interest in liberating Palestine because they benefit politically from the issue being prolonged. Mohebbali later said that support by Iran and its proxies for Arab governments led by ethnic minorities, such as the regimes in Syria and Yemen, has a negative impact on Iran's relations in the region, and he said that political development and democracy in the Middle East would greatly benefit Iran and would improve these relations. He reflected that Iran should not have caused instability in Iraq and Afghanistan.

Later in the interview, Mohebbali said that Iran's policies since 2017 have not taken the national interests into account. He argued that Iran should have ensured that the JCPOA was an agreement between Iran and the United States rather than between Iran and President Obama, and he expressed his opinion that Iran's current government lacks the experience to successfully negotiate with the "giants" on the other side of the negotiations table. He argued that Iran's economy is being "held hostage" by its foreign policy, which in turn is being held hostage by the JCPOA and Iran's regional policies. He said that any alternative to the JCPOA would be a step towards war with the United States because the U.S. military considers the development of Iranian nuclear weapons to be an important threat.

In addition, he pointed out that even though Iran's official policy is that nuclear weapons are prohibited for religious reasons, it is natural for Iran's opponents to conclude that there could be no other purpose for Iran's uranium enrichment efforts other than for nuclear weapons, since Iran has no nuclear power plants or nuclear submarines. Mohebbali added that Iran had initially agreed to the JCPOA because it was in dire straits, and that he fears that Iran's current government will do the same, rather than act out of "wise policy."
TV Teaches Turks to Hate Israel

The most popular TV show in Turkey, broadcast on the government channel, is the drama series "Teskilat," about agents of the country's National Intelligence Organization (MIT) who work to unearth foreign conspiracies. Among the MIT's chief enemies is the Israeli Mossad agent Ariel.

Concurrently, the news headlines in Turkey have been about the exposure of a Mossad spy ring in the country.

In the first season, Ariel, posing as a technician, infiltrated a Turkish oil and gas drilling rig in the Mediterranean in order to steal Turkish secrets.

In the second season, the head of the MIT decides to eliminate Ariel and sends a team to kill him in Israel.

Watching the series, it is difficult not to feel the deep hatred for Israel in every frame.
2/2 Moroccan Writer Said Nachid: We Have a Spiritual Disease Caused by Islamism, Religious Discourse that Focuses on Anger, Hatred, Jihad pic.twitter.com/DUkqApHOmE

— MEMRI (@MEMRIReports) November 1, 2021