http://elderofziyon.blogspot.com/2020/07/0706-links-pt2-third-wave-of-anti.html
From Ian:

---
JCPA:
The Third Wave of Anti-Semitism is on the Way
What is currently being promoted by the international community is not a discourse of criticism, which would be legitimate, but instead a storm of prejudices.

Research and polls carried out in dozens of countries testify that virus-inspired anti-Semitism has gone viral on social media, and it is the continuation of the ancient conspiracy theories of blood libels that have always painted the Jews as the source of diseases and the spreaders. Public opinion will surf again on this deadly anti-Semitic wave.

The Palestinian Authority's Prime Minister, Mohammad Shtayyeh, personally promoted the coronavirus blood libel by stating that Israeli soldiers and settlers knowingly spread the Coronavirus widely among Palestinians. His spokesperson went so far as to state that the occupation itself was the virus and that the Jews had inflicted the pandemic on the Palestinians. The phenomenon of the anti-Semitism plague converged with the Coronavirus, which then intertwined with subsequent waves.

Responsible national and international leaders who have taken a stance to combat anti-Semitism in this period have mobilized to fight the idea that the Jews are responsible for COVID-19. In addition, some leaders seek to quash the conspiracy theories that imperialist Jews and their wealth are attempting to dominate the world. Some combat those who want to obliterate the Shoah's memory. Others confront Neo-Nazi hatred. And others focus on their societies' bias against the Jews because of their hatred, prejudice, and ignorance about Judaism.

The political, diplomatic, and academic spokespersons who care deeply about the adoption and the promotion of the International Holocaust Remembrance Alliance (IHRA), upheld the connection between hatred for Israel and anti-Semitic hatred during a webinar conference in June 2020. Katharina Von Schnurbein, the European Commission Coordinator on combating Anti-Semitism, alluded to a 2019 survey in which 85 percent of Jews declared that they feel they are perceived through the Israeli lens. Jews are synonymous with Israel.

The question that arises is the following: if, as the IHRA suggests, anti-Israel hatred is the engine of anti-Semitism, its twin, why are there no measures to deal with this dual-threat? Why not be more cautious when dealing with issues relating to Israel? Why not challenge both hatreds by delving deeper into Israel's history, its democratic nature, humane inspiration, and the heroic story of the country itself?

Institutions and states that have implemented measures against anti-Semitism and have adopted the IHRA should monitor how they and their institutions influence public opinion and the spread of prejudice against Israel. Political actors must be more cautious before putting labels on Israeli-Jewish consumer products, or bandying about apartheid, or legitimizing BDS. The examples are endless, and the many condemnations and institutional threats today push anti-Semitic crowds into the streets with a "moral cloak." These political actors and institutions are committed to fighting against anti-Semitism, but they are also responsible for creating it. This has been the case since the 1975 UN Resolution 3379, which equated Zionism with racism.
Rachel Riley – JLGB LIVE Youth-Led Q&A (h/t Arie)
South Africa paid the price for defaming Israel

Party members are expelled if they set foot on the tarmac of Ben Gurion International. Foreign Affairs bureaucrats walk the talk of the local BDS franchise, so rotten that it lost the license to tell lies about Israel under the BDS brand. But dare challenge bizarre views and you're toast.

Chief Justice Mogoeng Mogoeng is toast. He is threatened with removal from office. For loving Israel he is guilty of "endangering the justice system." This from a governing party that beat the rule of law stone dead so that comrades could loot the country to their heart's content.

Two things that the Chief Justice said brought haters out of the woodwork. One, he connected Israel to the bible, and two referred to God's blessings and curses. To me the latter struck the rawest nerve.

Then a law professor entered the fray to do a non-political, objective hatchet job on Mogoeng Given that law professors who recognise the sovereign rights of Israel are as rare as a pig in Palestine, we can speculate if the professor would have delivered the opinion he did, or any at all, had the Chief Justice laid into Israel for crimes against humanity.

Israel more than any country attracts claims beyond wild, and most especially Jews with a chip on their shoulder who compete with Palestinian Arabs to come up with the wildest. Here is one example of suggested reading: The Chief Justice the Bible and Palestinian Real Estate, Daily Maverick 01.07.2020.

But for my money, the claim that Jesus was a Palestinian (Arab?) wins hands down. Yasser Arafat's PR, Hannan Ashrawi, disclosed the astounding fact to the Washington Jewish Week on February 22, 2001. No one blinked. She was not the first or the last to bring Christ into play. It is done annually. "Every Christmas, Palestine celebrates the birth of one of its own," proclaimed a PLO's statement at Christmas time. I don't know if anyone has made Jesus into a Muslim, but the PLO seems to leave that possibility wide open.

Hate is one of the more perverse emotions. More than it destroys the subject of hate it destroys the hater. In party politics hatred can harm a whole country. Antisemitism in fact could be at the bedrock of South Africa's collapse into a failed state.

Hell, though, is not the end of the world. Life in a failed state is not entirely bad. You have to deal with elements more or less stable, more or less controllable, more or less mad. Only one thing really matters – to recognise the curse that brought you to hell and what will keep you there unless you learn that those who curse Israel will be cursed.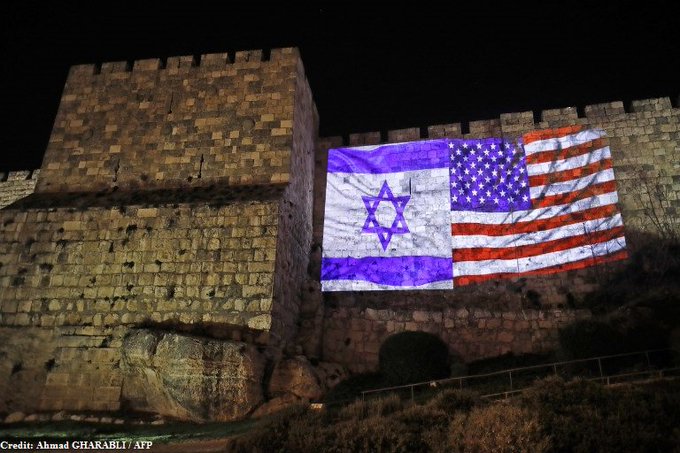 Biden's Foreign Policy Boss Called for Anti-Israel DNC Platform

Jewish Democrats are working hard to convince American Jews that Biden will be friendly to Israel, but his latest move once again sends a very different message.

The Biden campaign is busy putting together its transition team and Avril Haines, Obama's deputy CIA director, will head foreign policy and national security. Putting a former deputy CIA director in charge of foreign policy would be an odd choice, but Haines was already an inappropriate pick at the CIA.

Haines was an Obama legal adviser who was brought in to replace Michael Morell who took the fall for the Benghazi talking points. Bringing in Haines to serve under Brennan was a blatant attempt at embedding an Obama loyalist near the top of the CIA. And Haines has stayed loyal to her former boss.

In May, Haines joined other Obama staffers in signing on to a letter by the J Street anti-Israel lobby which complained that previous DNC platforms had been "silent on the rights of Palestinians, on Israeli actions that undermine those rights and the prospects for a two-state solution."

That isn't true, but the J Street letter nevertheless urged the DNC platform to be more critical of the Jewish State.

Haines' role taking point on foreign policy for Biden signals that the DNC platform and, more importantly, his administration, will take an anti-Israel direction. And that's not surprising.

Currently, Avril Haines heads up Columbia World Projects. A big part of the university's internationalization effort is the Obama Foundation Scholars initiative. Being a Foundation Scholar requires "a proven commitment to service and leadership within a community, region or country outside the United States" and, it ought to go without saying, the right set of political agendas.

The Obama "Scholars" at Columbia World Projects include Mor Efrat, the head of the Occupied Palestinian Territories Department for PHR-I. Physicians for Human Rights-Israel (PHR-I), despite its name, isn't really about medicine, it's an anti-Israel organization whose founder promotes BDS and which seeks to try Israeli soldiers for war crimes. PHR-I's founder had urged a move to "integrate BDS in every struggle for justice and human rights by adopting wide, context-sensitive and sustainable boycotts of Israeli products, companies, academic and cultural institutions, and sports groups."

This is the relationship that the Obama Foundation and Columbia World Projects under Haines have toward Israel.
Auschwitz Memorial and Museum Weighs in on Controversy Over Tearing Down Statues

The Memorial and Museum at Auschwitz-Birkenau, which maintains the remains of the death camp where a million Jews were murdered during the Holocaust, weighed in on the controversy over tearing down monuments to historical figures in the US and Europe.

The tearing down of statues began in the US, mostly targeting Confederate figures, slave-owners, and racists. The calls quickly spread, however, to figures like Christopher Columbus and Thomas Jefferson. In the UK, a statue of Winston Churchill was vandalized.

The Auschwitz museum's statement came in response to a comment from US pollster and political commentator Frank Luntz who tweeted that, like Auschwitz, statues honoring figures like Jefferson and Abraham Lincoln should remain standing.

"We can see a lot of 'Auschwitz' mentions recently," the museum's official English language Twitter account stated. "Remember that a preserved historic site does not equal a statue erected to honor a person. The two have entirely different roles, contexts, messages & meanings. Drawing a simple comparison here is incorrect."

The controversy first erupted on Twitter after Luntz posted a picture of a quote by philosopher George Santayana: "Those who do not remember the past are condemned to repeat it."

Luntz said, "These words are inscribed on the wall at Auschwitz, where a memorial is maintained so we never forget."

"Leaving most monuments in place while stating the inhumanities associated with them is a better lesson for future generations than tearing them down indiscriminately in anger," he added.
YouTube: Delete Louis Farrakhan's 4th Of July Speech ASAP

On the Fourth of July, Nation of Islam leader Louis Farrakhan delivered a three-hour address on YouTube featuring a litany of antisemitic remarks. Among the attacks, Farrakhan said that Jews are responsible for supplanting Torah with the Talmud: "They made that word in their minds and in their believers' minds greater than God's word." Farrakhan also referred to the head of the Anti-Defamation League as "Satan."

Farrakhan's speech, with over 760,000 viewers on YouTube at the time of this piece's publication, was promoted by the rap artist Sean Combs to his 35 million Twitter followers. Combs, known now as Diddy (previously Puff Daddy, P Diddy and Puffy), is founder of the Revolt music-oriented network which hosted the minister's address.

Direct violation of YouTube's terms and conditions
The fact that this speech was broadcast on YouTube runs counter to the video-sharing platform's policy. YouTube officially prohibits content that promotes or condones violence or incites hatred against individuals or groups based on core characteristics such as ethnicity, gender and sexual identity, and religion.

By giving Louis Farrakhan a pass, YouTube is allowing him to hijack the worthy cause of racial justice and equality that the tragic death of George Floyd has drawn worldwide attention to. And this failure to acknowledge and act on Farrakhan's long history of making antisemitic remarks is enabling public figures with massive social media followings to promote the minister.
This is the official #BDS Twitter account. First they blamed Israel for George Floyd. Now they blame Israel for what they claim is happening in India.

This is classic #antisemitism where Jews are blamed for all that is wrong in the world. Pure Jew hate. pic.twitter.com/LRb6iUIDtS

— David Collier (@mishtal) July 6, 2020
Al-Jazeera Network: U.S. Police Violence Inspired by Training in Israel; Departments in Cities Where High-Profile Police Killings Take Place Have Been Trained There pic.twitter.com/UJMIS7Hwfj

— MEMRI (@MEMRIReports) July 6, 2020
UNRWA II Established for CHAZ Refugees (satire)

The United Nations has launched a second UN Relief and Works Agency to support refugees from the now-defunct nation of CHAZ.

The agency, which will be called UNRWA II, will provide services for the dozens of refugees evicted from their country when the regime of Seattle Mayor Jenny Durkan invaded and ethnically cleansed the enclave.

"Many of those forced to flee CHAZ had lived there since the nation was created nearly a month ago," said UN Secretary General António Guterres. "They know little else."

UNRWA II will build refugees of the short-lived nation refugee camps in states across the Pacific Northwest. They will be kept in these camps, as will their children and their children's children, until the Seattle Occupation Regime allows them to return to their family homes.

"Without UNRWA II, there would be no more CHAZ refugees within a generation. We will not let that happen," said Guterres. "Even if it takes a thousand years, these refugees or their descendants will go home."
Labour shadow minister Reed deletes Desmond Tory 'puppet master' tweet

A Labour shadow cabinet minister has been accused of using an ''unacceptable trope'' after alluding to the fact that property developer Richard Desmond was a ''the puppet master to the entire Tory cabinet.''

In a tweet, which was subsequently deleted, Steve Reed MP, the Shadow Secretary of State for Communities and Local Government, made the claim in relation to the row over the £1 billion property deal involving Mr Desmond which was controversially signed off by Housing Secretary Robert Jenrick.

Mr Reed tweeted: "Is billionaire former porn-baron Desmond the puppet master for the entire Tory cabinet?"

He was also responding to claims raised by Labour MP Nick Thomas-Symonds that Home Secretary Priti Patel had met with Mr Desmond and then called for a relaxation of lottery rules.

Conservative MP Andrew Percy, who is Jewish, said: "Alluding to Jews as puppet-masters is an age old antisemitic trope and for a Shadow Cabinet member to use this trope is totally unacceptable.

"If Keir Starmer was serious about tackling antisemitism he would sack Steve Reed on the spot.

"Otherwise the British people will rightly conclude the action taken against Rebecca Long-Bailey last week was done out of political convenience rather than principle."

Mr Reed had previously been outspoken on Labour's failure on antisemitism under Jeremy Corbyn.
BREAKING: Steve Reed apologises for "puppet-master" tweet hours after Sir Keir Starmer said he would speak to him

Steve Reed MP has apologised for tweeting that a Jewish millionaire was a "puppet-master" hours after Sir Keir Starmer announced this morning that he would speak to his Shadow Communities Secretary about the matter.

On 4th July, Mr Reed tweeted "Is millionaire former porn-baron Desmond the puppet-master for the entire Tory cabinet? @Robert Jenrick @PritiPatel".

The tweet was a reference to a planning controversy relating to Richard Desmond, the Jewish businessman, and the Communities Secretary, Robert Jenrick. However, the notion of Jews as all-powerful puppet-masters is a classic antisemitic trope, and Mr Reed came under fire and deleted the tweet. The tweet was also retweeted (and also deleted) by another Labour MP, Mike Amesbury.

Now, after Sir Keir Starmer announced that he would review the matter and speak to Mr Reed about the tweet, Mr Reed has tweeted: "I want to apologise unreservedly for the language in the tweet I posted on Saturday. It was inappropriate and as soon as I realised my error I deleted it."

Previously, Andrew Percy MP, The Conservative co-Chair of the All-Party Parliamentary Group on Antisemitism, reportedly said: "Alluding to Jews as puppet-masters is an age old antisemitic trope and for a Shadow Cabinet member to use this trope is totally unacceptable. If Keir Starmer was serious about tackling antisemitism he would sack Steve Reed on the spot. Otherwise the British people will rightly conclude the action taken against Rebecca Long-Bailey last week was done out of political convenience rather than principle."

A source close to Mr Reed had previously said: "Steve did not know Richard Desmond was Jewish. He deleted the tweet and did not mean to cause any offence."
WZO establishes new division to sponsor activities with LGBTQ+ community

In honor of Pride Month, the World Zionist Organization (WZO) will be establishing a division of their organization to sponsor activities with the LGBTQ+ community.

"Gay pride month will be especially remembered this year by the fact that the World Zionist Organization set up a unit for Zionist activities among the gay Jewish communities in Israel and in the Diaspora," said head of the Department for Zionist Enterprises in the World Zionist Organization Dror Morag.

The WZO will be doing so in multiple parts.

The first will sponsor members of the LGBTQ+ community to make aliyah and strengthen their connection with Israel, overseen by the Department for Zionist Enterprises.

Additionally, the unit will also assist these immigrants once arriving in Israel, in collaboration with the Association for the LGBT Community, to help the new oleh – underneath this program – transition into Israeli society. The division intends to create a platform for frequently asked questions that can assist LGBTQ+ oleh with their transition.

Another part of the initiative is called "Zionist pride." Within the framework of the project, the WZO intends to call on LGBTQ+ youth and community organizations across Israel to submit their ideas for unique activities that deal with the issues of Jewish peoplehood, creating an ideal society as well as tolerance on pluralism within Israeli society – the WZO will then provide grants to those projects selected.
This guy claiming @Lin_Manuel is evil is Jill Stein's 2016 running mate, and contributed to an anthology of conspiracy theorists edited by a white supremacist & Holocaust denier. I am not kidding! Look it up. Twitter is the wonderful place where he can lecture us all on morality. https://t.co/74IBk7pSyw

— (((Yair Rosenberg))) (@Yair_Rosenberg) July 6, 2020
Editors' note on cancel culture and misuse of the term 'antisemitism'

We recently tweeted our response to a tweet that suggested not only that the BBC was institutionally biased against Israel, but that most if not all BCC staffers were antisemitic.

"Accusations of anti-Jewish bigotry against journalists or media outlets should strictly be avoided, unless of course there is real evidence of such racism. The term antisemitism should be used only when a trope or allegation falls within the IHRA Working definition."

In fact, since this blog was founded nearly 11 years ago, we've always used the IHRA Working Definition of Antisemitism– previously the the European Monitoring Centre on Racism and Xenophobia (EUMC) working definition – when charging journalists with using antisemitic rhetoric. The IHRA Working Definition is the most widely accepted definition of anti-Jewish racism, and has been adopted by 34 democracies across the world.

Though some criticism of Israel (per IHRA) crosses the line to antisemitism, we're extremely careful about making such accusations for a couple of reasons:

First, because we take this form of bigotry so seriously, and we don't want the term to be misused – as to do so invariably waters down its moral and rhetorical significance.

Also, whilst there is a proven correlation between between extreme anti-Israel views and antisemitism, which is extremely important in contextualising the animosity towards Israel we write about, correlation is not causation. So, as we can never peer into someone's soul and determine what animates their views on Israel and the Palestinians, we won't hurl that term in the absence of real evidence: a paper trail demonstrating the use of antisemitic tropes or, at least, a consistent defence of, or alliance with, those who do.

And, even then, we usually avoid saying someone "is" antisemitic – only that they've used antisemitic tropes.
German prosecutors seek three years in jail for former Nazi camp guard

German prosecutors on Monday demanded three years in jail for a 93-year-old former Nazi concentration camp guard who they said was "without a doubt" complicit in the murder of more than 5,000 people during World War II.

In what could be one of the last such cases of surviving Nazi guards, Bruno Dey stands accused of complicity in the murder of 5,230 people when he worked at the Stutthof camp near what was then Danzig, now Gdansk in Poland.

Dey, who appeared in court in Hamburg in a wheelchair and wearing a black trilby, has denied any guilt for what happened at the camp.

But chief prosecutor Lars Mahnke said Dey knew about the "state-organized mass murder" happening around him and should have climbed down from the tower and handed in his weapon.

'Horror and shame'

"He knew without a doubt what was going on," Mahnke said, accusing Dey of having contributed to "barely describable crimes" that evoked "horror and shame" over what human beings are capable of doing to one another.

Dey's defense has insisted he did not join the SS voluntarily before serving at the camp from August 1944 to April 1945, ending up assigned there because a heart condition excluded him from front-line service.

But prosecutors argue that his involvement was crucial to the killings, as his time in the SS coincided with the "Final Solution" order to systematically exterminate Jews through gassing, starvation or denial of medical care.
Waterstones to remove all books by antisemitic hate preacher David Icke

Waterstones has announced that it will remove from sale all books by the conspiracy theorist and antisemitic hate preacher David Icke.

The bookseller reportedly made the announcement after one of Mr Icke's books, titled 'Everything You Wanted to Know But Have Never Been Told', was found at a branch in Southport in a section marked "alternative histories and conspiracies".

A spokesperson for Waterstones told the Jewish News newspaper: "Most of the selection is done at a local, shop-floor level. We will look into this immediately to ensure any stock is removed from sale."

Mr Icke uses social media, his books and his stage performances to incite hatred. His preaching is so absurd that since the 1990s he has been dismissed as a crank, but because he is dismissed, there has been no major opposition to him and he has built up a following of thousands upon thousands of disciples whom he has persuaded to adamantly believe that the world is in the grip of a conspiracy run by the "Rothschild Zionists". His repertoire includes conspiracy myths and tropes classified as antisemitic according to the International Definition of Antisemitism. Campaign Against Antisemitism has successfully persuaded some venues to pull out of hosting his events.

Recently, Ofcom sanctioned the television channel London Live for airing an interview with Mr Icke on COVID-19 and Facebook and YouTube resolved to remove Mr Icke from their platforms, albeit because of his conspiracies regarding the pandemic rather than because he is a Jew-hater.
Antisemite Gilad Atzmon condemns Google for deleting Youtube channel of convicted French antisemite Dieudonné M'bala M'bala

The antisemite Gilad Atzmon has condemned Google for deleting the Youtube channel of the convicted French antisemite Dieudonné M'bala M'bala.

Mr M'bala M'bala, generally known simply as Dieudonné, is a French comedian and political activist who has been convicted for hate speech and advocating terrorism, among other offences, in France and Belgium.

His Youtube channel was apparently reduced to a black screen reportedly as part of a crackdown on hate speech by Google, which owns Youtube.

Mr Aztmon, linking to the story, wrote: "This morning we learn that Black Voices do not matter at all,,, @MbalaDieudo's YouTube channel is deleted by Google… We know who is behind it yet, the only question that bothers me is where is #BLM?"

Mr Atzmon is an antisemite who has reportedly blamed the Grenfell Tower tragedy on "Jerusalemites" as well as reportedly telling university students that "the Jews were expelled from Germany for misbehaving." He is not shy about his antisemitism, telling a Jewish Twitter user in 2014: "I am not a Jew any more. I indeed despise the Jew in me (whatever is left). I absolutely detest the Jew in you."

At one stage, Mr Atzmon was forced to make a humiliating apology to Campaign Against Antisemitism following defamation proceedings, and Campaign Against Antisemitism has successfully pressured venues not to feature Mr Atzmon due to his record of antisemitism.
Israeli Open Innovation Company SOSA Partners With Brazil's Industry Leaders for COVID-19 Response

Amid Covid-19 cases rising in Brazil and Israel, a partnership between Israeli open innovation company SOSA and Brazil's National Confederation of Industry (CNI) is set to improve innovation between the two countries. The organizations have been amicable for around two years and have now made their collaboration official.

The partnership will enable CNI's corporate members to collaborate with tech startups in Tel Aviv and New York, as well as open up opportunities to help disrupt some of the technology developed outside of Brazil.

It is expected to highlight the nature of Brazil's industrial sector, while also taking into account a variety of cultural, economic, and lingual factors. CNI plays a big part in Brazilian society by highlighting national issues and how they impact the country's economy.

SOSA has centers in Tel Aviv, New York, and London. It supports programs designed to help startups, governments, corporations, and entrepreneurs build strong relationships and helps them identify and implement new technology. CNI represents the Brazilian industry as a whole, working with the country's government to represent unions and enterprises.

"Our global expansion strategy is based on two principles," explained Uzi Scheffer, CEO of SOSA, in an interview with CTech. "One is to expand to places where we can access first in class technologies. The second is to expand to places where there is significant demand and large industry players. I believe Brazil qualifies for the second one, but also for the first one because there are a lot of technology companies in Brazil, and a lot of startups."
"A Story of Commitment, Solidarity, Love Even"

Book Review: Tehran Children: A Holocaust Refugee Odyssey by Mikhal Dekel

In 1944, Hannah Senesh, a young, newly minted kibbutznik who was also a budding poet, parachuted as a British soldier into Yugoslavia and from there crossed back into her native Hungary to do what she could to help protect the country's Jews from the Nazis. Caught near the border and tortured mercilessly, she refused to divulge any information about her mission to the Hungarian authorities, who eventually executed her. "In my youth," Michael Walzer wrote 20 years ago, "Hannah Senesh was the great woman, and Marie Syrkin's popular history Blessed Is the Match was the crucial text; the book worked its magic: the first time I brought my daughters to Israel, I took them to visit Hannah Senesh's grave on Mt. Herzl." But Walzer knew that times were changing. "I dread the revisionist assault," he continued, "on Syrkin and Senesh."

I remembered Walzer's comment when I picked up Mikhal Dekel's new book Tehran Children. The "Tehran children" made their way from Poland through the Soviet Union to the Iranian capital during World War II, until they were finally transported in February 1943 to Palestine, where they were joyously welcomed. This was one of the more heartening episodes in the history of efforts to save Jewish lives during the years of the Holocaust, and, like Walzer, I dreaded the prospect of Dekel's revisionism. She was going to expose their rescue, I immediately suspected, as unseemly Zionist shenanigans. In her previous, densely written book, The Universal Jew: Masculinity, Modernity, and the Zionist Moment, the Haifa-born professor of English at CUNY, who had, in her words, moved "entirely outside the logos of the nation," had sought to expose some of the defective roots of the Zionist idea. Now, it seemed, she had moved on to discredit one of the steps taken toward its embodiment.

But I was entirely wrong. Dekel identifies as someone who has absorbed, "like other students trained at American universities during the 1990s, the political scientist Benedict Anderson's insight that nations were not historic, ancient entities, but 'imagined communities,' bound together by shared texts, images, and dates on the calendar," and she has "spent years identifying how such communities were 'constructed,' 'imagined,' and 'manipulated.'" But this model, Dekel tells us, is inadequate for her current subject. This inadequacy is in part because the views on Israel prevailing in her scholarly milieu had begun to irk her, and, as dissatisfied with her native country's policies as she continued to be, she often found herself defending, albeit "halfheartedly, what I called home and what many of my friends called 'the Zionist project.'" And it is in part because her new research was about her own family—not the product of an academic agenda but the outcome of her personal history. It is a belated attempt to grapple with the fact that one of the Tehran children had grown up to become her father.

Dekel's father, Hannan, had rarely spoken to her of his earlier life, and by the time she began work on her book, he was no longer alive, but his sister Regina (in Israel, Rivka), who had also been a "Tehran child," was. Dekel's account is mostly based, however, on what she could glean from books, archives, and travels to the most important stations on her father's routes (excluding, of course, Iran). Her research involved a considerable amount of detective work and benefited from some extraordinary good luck. She knew, for instance, that her father, like the other children, must have been interviewed when he arrived in Palestine in 1943. Still, she couldn't find evidence of that anywhere—until she happened to attend a panel on children's war testimonies at an academic conference in Boston. After she heard one of the participants read from the testimony of a 15-year-old named Chananja Teitel (her father's original name), "the rest of the panel was a blur." The speaker didn't have the full transcript, but she told Dekel where to find it: in "a tiny, messy, strangely fascinating archive at the heart of the Gur Hasidic community in Bnei Brak." That night Dekel sent an email to the archive, and the very next morning, she received a reply that included a photo of "eight yellowing pages."
---
---
We have lots of ideas, but we need more resources to be even more effective. Please donate today to help get the message out and to help defend Israel.